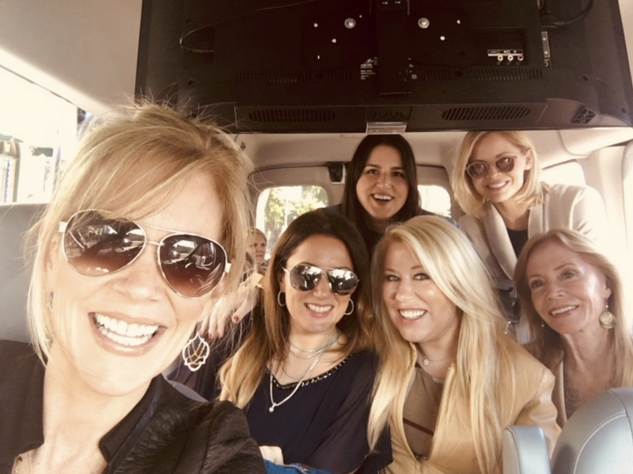 2018 CA Spring Retreat 
Leading Women Entrepreneurs Retreat to the USC Women's Conference, Hollywood, Beverly Hills, Catalina Island and Santa Monica was a huge success!
Take a look at our highlight photos and summarized agenda. This was an epic experience for so many reasons and the women who attended the retreat were truly remarkable!
FRIDAY, MARCH 23 to MONDAY the 26, 2018
We kicked off the retreat by joining over 800 women from around the country at a breakfast that started with the USC marching band playing a few songs to get the women ready for a day filled with Passion, Power and Wisdom (the conference theme).
We enjoyed the featured keynote speakers:
Jaime Lee '06, JD '09, President, USC Alumni Association Board of Governors
Julie Miller '69, MS '72, SuccessFactorsInc.Net
Yasmin Davidds '95, Women's Institute of Negotiation
After a day filled with workshops and connections, the LWE group participated in a VIP Excursion to the Ritz Carlton for a private Dinner with 50 women in various industries. Our featured presenter was Dr. Gloria Burgess, author of Dare to Wear your Soul on the Outside. She made such a huge impact on our group as we explored advice we would give to our younger self and building a legacy through passion, power and wisdom.
The next day was filled with hundreds of women at the USC Business Expo.
We kicked off our morning with a meditation and yoga class and a featured keynote speaker Liz Arch '04, Primal Yoga®. Then we attended the USC Women's Business Expo.
At 3:00 we departed for Hollywood Homes Tour
SUNDAY
we departed for Catalina Island on a ferry that took us to one of the most captivating places we have ever been to.
Catalina Island is one of California's Channel Islands and lies southwest of Los Angeles. It's known for its wildlife, dive sites and Mt. Orizaba, its highest peak. The island does not have a police department, a full hospital, a law firm, and only 25 students in the graduating high school class – but it has a Women's Forum and we met with them!
We enjoyed dinner with the Women's Forum of Catalina Island at the Bluewater Avalon.
MONDAY
We Headed to Discovery Tours, Avalon for the Skyline Tour of Catalina Island
Checked into Santa Monica. Enjoyed Dinner at Herringbone's with Hollywood film writer, story editor and TV producer Susan Chung.
Not only did this trip allow us to build coast-to-coast relationships with some of the most innovative women in CA, but we were all able to reflect, rejuvenate and reconnect with the LWE group to lift each other up personally and professionally. We left California filled with more Passion, Power and Wisdom and it can't get much better than that!